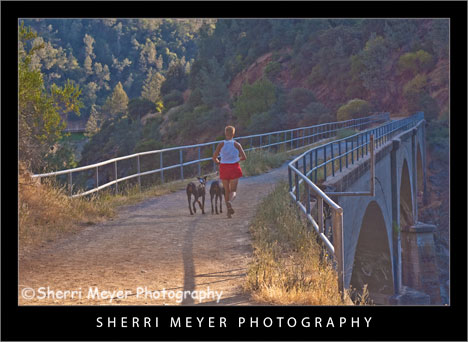 Woman running with her dogs across the famous "No Hands Bridge" in Auburn, California.
I chose to feature this photo in my "Wednesday's WOW" post for a couple of reasons.
First of all, I really like it and secondly the annual Western States 100 Endurance Run is coming up June 27-28. If you have never heard of this race, it is a 100-mile foot race which starts in Squaw Valley, California and winds up in Auburn, California 100-miles later. The participants of this race will cross No Hands Bridge minutes before reaching the finish line at Placer High School. NOTE: This bridge is in both El Dorado and Placer counties.
5 reasons why I really like this photo:
Location – As I mentioned earlier, this bridge is world famous and a big icon in our area.
Lighting – I love sidelighting!
Concept – I like to use concepts in my photos whenever possible. The relationship between the woman and her dogs makes a very strong concept photo.
Diagonal Lines – Good to use them in your photographs whenever possible to add impact.
The Color Red – This is huge for me. I use red in my photos of people about 85% (a good guess) of the time. Red is the #1 publishing color and it also draws attention to the viewer. For me, it is often what makes the difference between a keeper and a photo that gets tossed.
Each week, I will try to feature a WOW photo that was created by someone else. This week it goes to Jim Goldstein for his photo of a Lightening Strike. Take a look at this amazing shot.
Thank you for visiting. If you would like to leave a comment, simply click on the "comments" link (add your message in the box) at the bottom of this post.
You can also sign up for a "free" subscription to this Blog. Just look in the upper right hand side of the Blog under "Subscribe to Sherri's Blog." Then, either click on the orange button, or enter your email address and click on "subscribe."
Visit our Stock Photo Website for links to photo galleries.