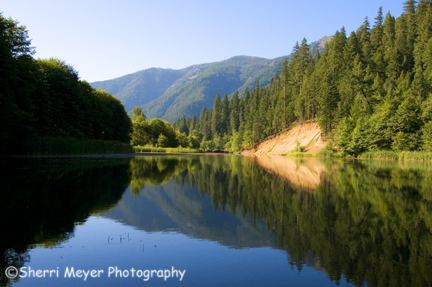 Photo #1- Indian Creek in Taylorsville, CA (Plumas County) shot in the morning.
Getting back to our recent road trip photo essay…
One of the great things about staying in one place for awhile is that you have more than one opportunity to photograph a subject. While we were camping along Indian Creek, I had just that kind of opportunity.
I am currently in the middle of editing hundreds of images, some of which are from our recent Northeastern California Road Trip. I'm very excited, because we just upgraded to PhotoShop CS3 and purchased Lightroom 2 Photo Management Software to work with it. So far, I am very impressed with both programs and they are going to improve my workflow a bunch.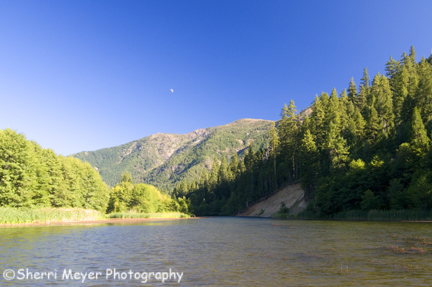 Photo #2 – Indian Creek in Taylorsville, CA (Plumas County) shot in the afternoon.
While looking over the photos from Indian Creek, I was going to toss photo #2. Then, something told me not to. I could use it in a write-up about timing and lighting.
Check it out. Photo #1 was taken looking upstream from our camp at 8:36 a.m. with beautiful lighting. Later on that day at 5:21 p.m., I returned to the same spot and photographed the same scene with a slightly different composition. Even though it was later in the day, it wasn't good lighting for that location. It was clearly a spot that needed to be photographed around 8:30 in the morning, at least during the month of August. The only good thing about that one is the moon!
Next time you are on the road, stay put in one place for a couple days. Then, find a great subject and photogaph it at different times of the day. You will return with something you are proud to show to people, not just a snapshot (see photo #2) of that awesome place you visited.