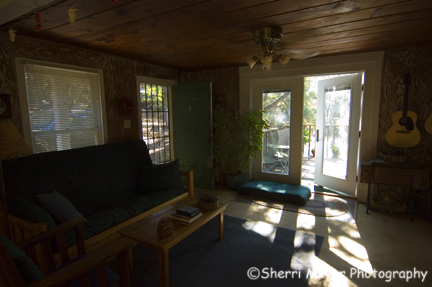 Our living room shot with my new Tokina 12-24mm super wide-angle lens.
Wow! Our living room never looked so big! This was the first photo taken with my new super wide- angle lens. So far so good!
Jeff and I will be leaving soon on a "Road Trip," exploring and photographing new territory in Northeastern California and the Lake Tahoe Region.
I would have eventually purchased this lens along with my new Nikon D-300, but just before a trip like this seemed like the time to take the plunge. I have been experimenting with this lens and I'm loving it, but IÂ haven't really tried out the camera yet. That is on the agenda for this weekend.
After comparison shopping on the Internet, I found the best deals through B&H Photo in New York.  Not only were their prices lower than anywhere else, their service was impeccable.
I will be writing more about our upcoming trip in a future post, as well as posting a photo or two taken on the D-300.