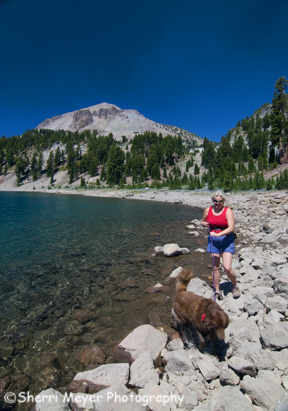 Sherri & Cocoa walking along the shoreline at Lake Helen, Lassen National Park, California
One of the things we did while visiting friends in Taylorsville was to do a "day trip" to Lassen National Park.
Unfortunately, dogs are not all that welcome in National Parks.  For us, that makes them a lot less appealing. Our dog travels with us just about everywhere we go. So traveling to National Parks is not something we do often. We are far better off sticking to the State Parks and our favorite travel destinations, which are off-the-beaten-path and lesser known. They have far less restrictions and a lot less people.
While we were at Lassen and our friends were checking out the hydrothermal activity on the "Bumpass Hell Trail," we opted to hang out at beautiful Lake Helen directly across the road, which also includes a great picnic area.
We really wanted to explore the hydrothermal areas which the park is so well known for, but dogs are not welcome on any of the trails within the National Park. To my knowledge, all national parks (at least in California) are this way. If anyone knows otherwise, please let me know by leaving a message.
Lassen National Park has a lot of things to see. But, it's really hard to do it any justice, when you travel there with your dog. I would recommend leaving your pooch at home, unless all you want to do is jump out, take a few snapshots and say "I went to Lassen National Park!"
For more information on Lassen National Park, please visit the following links.
http://www.lassen.volcanic.national-park.com/

http://www.nps.gov/lavo/