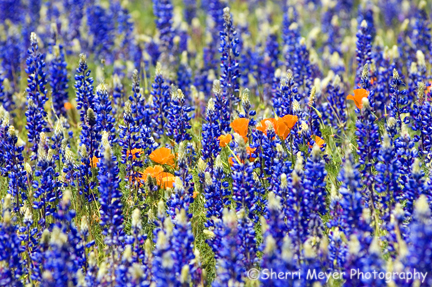 California Poppies and Purple Lupine, Hidden Falls Regional Park, Auburn, California
I love the contrast between the orange Poppies and the purple Lupine so much, I am posting another version of the photo I posted yesterday.
Windy Point Trail 2008 wildflower update
A few weeks ago, I wrote a post about the Windy Point Trail. Jeff and I have not been there yet this year. But, a couple of our friends were there a couple of weeks ago and reported that the California Poppies, Lupine and Goldfields were putting on a great show. 
I'm not sure how much longer they will last, but most likely for a couple more weeks or so. If you can't make it up there this year, be sure to put it on your list for next year!