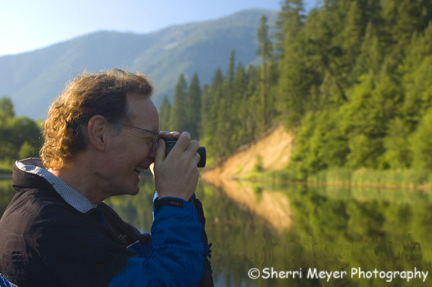 Steve Hadley photographing Indian Creek, Taylorsville, California
While I was down capturing a few early morning shots of Indian Creek, our friend Steve decided to join me. That was perfect timing, because all the photos I had taken up until then had been void of people, which is really unusual for me. More importantly, he is a "Baby Boomer!" Photographing "Baby Boomers" is one of my top priorities when shooting for stock.
Here is another tip I will throw out there to the universe. When photographing a landscape, try shooting the scene both with and without people. I generally shoot with the people in the scene first, because those shots are most important to me. But, if your speciality happens to be landscapes, you would most likely do it in reverse. This is most important if you are a Stock Photographer shooting for publication.
I will be including more photo tips in future posts from our recent Northeastern California Road Trip, so stay tuned to www.sherrimeyer.com/Blog.