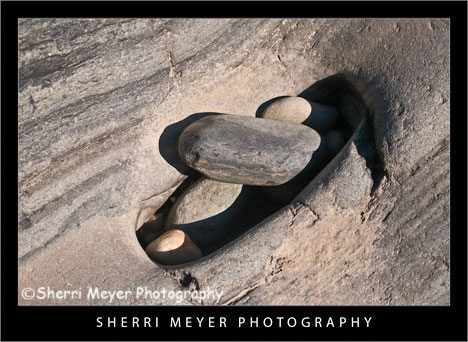 American River Rocks, near Weimar, California.
This is a close up photo of the large rock Peg was sitting on in this photo. These little rocks were arranged just like this, when I stumbled upon them.
Holes like these are created by the water washing over the large rock into a small hole. When a little rock gets caught inside the small hole, it tumbles for a long time, making the hole bigger. Eventually, more rocks make their way into the hole as they did here.
I could have missed this photo opportunity, if I hadn't paid attention to the smaller details in my "big picture."
Thank you for visiting. If you would like to leave a comment, simply click on the "comments" link (add your message in the box) at the bottom of this post.
You can also sign up for a "free" subscription to this Blog. Just look in the upper right hand side of the Blog under "Subscribe to Sherri's Blog." Then, either click on the orange button, or enter your email address and click on "subscribe."
Visit our Stock Photo Website for links to photo galleries.