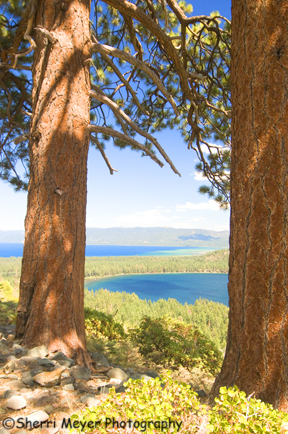 View of Fallen Leaf Lake and Lake Tahoe, from the Mt. Tallac Trail, South Lake Tahoe, California

Our final destination during our road trip was Fallen Leaf Lake Campground, in South Lake Tahoe, California. We live less than 2 hours away from the most popular lake in the country (also known as "Lake in the sky"), but we usually avoid it because of the crowds.
Even though Lake Tahoe is less than 2 hours away, there is so much to see and do there, it's hard to make a day trip out of it. We would use up nearly 4 hours just getting there and back. So, it made perfect sense to incorporate a visit to Lake Tahoe during the last leg of our road trip. We figured most of the kids would be back in school by the time we got there, so it wouldn't be too crowded. We would also be traveling down highway 395, after leaving Blue Lake anyway.
We decided to set up base camp at highly recommended Fallen Leaf Lake Campground for a couple of days. Some of our friends joined us and we got the best campsite (in our opinion) in the whole campground. It was huge and we even had a couple of bear visitors, until our dogs chased them off. They never returned after that.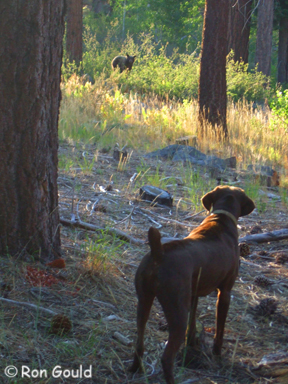 Otis and the bear!
Speaking of bears, here is a great photo our friend Ron sent us. He was fortunate enough to both see and capture a great "story telling" image, of his dog Otis and one of the bears that visited near our camp. Thanks Ron!
One of the things we wanted to do while visiting Lake Tahoe was to hike the Mt.Tallac Trail, which leads into the Desolation Wilderness. We had planned on hiking to the top, which was 5-miles one way. Unfortunately, we got too late of a start. You either need to start early in the day (around 9:00 or so), or be in really good shape. We did make it as far as picturesque Floating Island Lake and that was well worth the effort!
The views from this trail are spectacular in every direction and I highly recommend this hike. We hope to return this fall, after we get in better shape and make it all the way to the top.
More photos of our road trip to come!
Visit our Website for links to photo galleries.