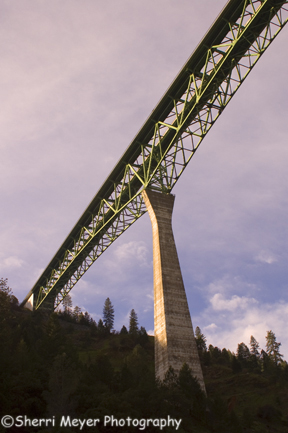 Foresthill Bridge - Auburn, CA
The famous Foresthill Bridge is the 3rd highest bridge (over 700 feet) in the US and is the highest bridge in CA. It was also featured in the film XXX.
I used this photo of the Foresthill Bridge in this post to illustrate service. This bridge connects thousands of people from one location to another on a daily basis, just like the Internet does. 
Since writing my previous post, our Internet service went down. We had just had a snowfall, so we figured it was weather related and it would come back on in a few hours, or certainly by the next day. Then, we remembered the same thing happened to us last December! 
I'm not going to point fingers at who was to blame, or go into detail about what all occured in this post. But, on the 7th day without Internet service (Satellite), we had to do something!
Since we discovered there was a pattern of losing our service every December, we decided to add dial-up service as a backup. It's a good thing we did, as it was 10 days before we got our Satellite service working again.
For anyone out there that is using a high-speed Internet service for business, I would highly recommend that you have dial-up service as a backup, if you don't already. It may be slow, but it's better than no service!