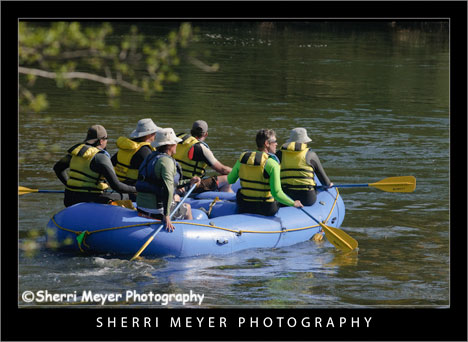 Whitewater rafting on the South Fork of the American River, near Coloma, California.
Thanks to my friend and fellow photographer, Richard Wong, I have done something I thought I'd never do. I jumped on the Twitter bandwagon! For months, I would read his little Twitter message on his Photo Blog and found it quite amusing at times. But, I really didn't understand anything about it. So, what did I do to satisfy my curiosity? I did like millions of other curious folks are doing and I signed up for my "free" Twitter account. Once I signed up, it was easy to read all of his posts and it cleared up things a bit. But, I still didn't really get the hang of it, so I put it on the back burner for a few more months.
About 3 months ago, I started getting traffic to this Photo Blog and my Website from Twitter. I couldn't figure out why, because I hadn't done anything with it other than add a couple of entries. What was interesting was just the day before, I had decided I should probably give it another try. Then, when checking my blog stats revealed visitors were coming from Twitter, I took that as an omen that it was time to jump in all the way.
Now, about 3 months later, I am blown away by the good things that have come as a result of using Twitter. In a nutshell, the biggest benefits for me have been meeting new people, passing along and receiving great information and increased traffic to my Photo Blog and Website. I also make it a point to visit and comment on other Blogs in my related areas of interest. It's a win-win situation. Everyone benefits!
Today, I am doing something a little different on this Blog. I have rounded up a few of my favorite "Tweets of the Week" to share with you. Hopefully, you will find the information the people behind these tweets are sharing useful to you and you will follow some or all of them too.
Here are my top 10 photo related "Tweets of the Week" in no particular order.
Thank you for visiting. If you would like to leave a comment, simply click on the "comments" link (add your message in the box) at the bottom of this post.
You can also sign up for a "free" subscription to this Blog. Just look in the upper right hand side of the Blog under "Subscribe to Sherri's Blog." Then, either click on the orange button, or enter your email address and click on "subscribe."
Visit our Stock Photo Website for links to photo galleries.