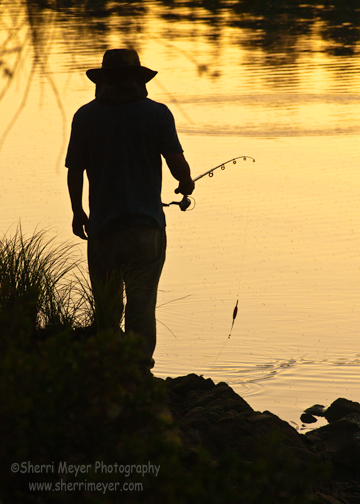 Man fishing at Sugar Pine Reservoir, Foresthill, California.
"Give a man a fish; you have fed him for today. Teach a man to fish; and you have fed him for a lifetime" ~ Author unknown
I have always loved that quote! This is one of the photos from my photo shoot at Sugar Pine Reservoir last weekend. The day all lined up so well, once we got up there and found a quiet spot to call our own for the afternoon.
The few little black spots in the image (if you look really close) are actually bugs. I started cloning them out in Photoshop at first. After removing a few of them, I decided they could stay…for now anyway. When I get ready to upload it to our Photography Website, I will think again.
Thoughts anyone? Would you remove the bugs, or leave it "Au Natural?"
Workshops comin' up soon:
"Abstract Photo Workshop" – September 25 – The deadline for registering for this Workshop is this Sunday 9/11.
Old Town Auburn/American River Photo Tour & Workshop – October 2 – Register by 9/18.
Comments or questions are always welcomed & appreciated!
~Sherri
{ 0 comments }